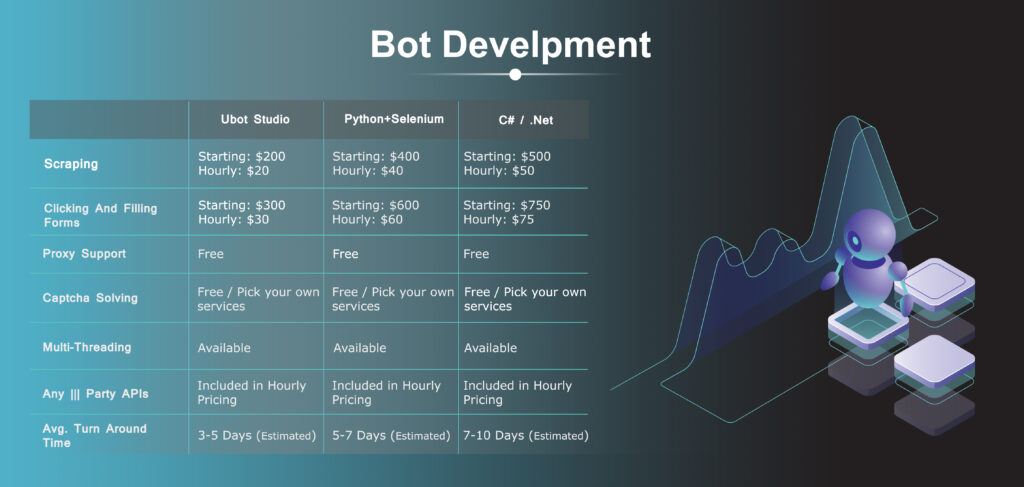 Looking For A Bot? Look Nowhere Else!
---
Bots, Automation Tools, Scrapers, Auto checkout tools, Macros are our biggest strengths. TAS has been building these tools almost since the start of the internet. We have taken it to a whole new level with the use of Artificial Intelligence in our botting solutions. Our team is adept at breaking the bot defense security of many services like Distil Networks, Incapsula, Recaptcha and many others. Look nowhere else if you are looking for an automation tool. "If you can think it, we can automate it."
Types Of Bots We Specialize In
---
TAS have expert web scrubbers dealing with automated web scrapping processes, in addition to executing computerized and manual QA by the different QA group set up to check whether the information is right or not.
We have a team of senior developers experienced in creating Desktop Bots to ensure that Bots are developed as end-users rather than programmed. Our experts are also able to develop OpBot that can run as an admin.
Our team has extensive experience working on Mobile Automation tools like Robotium, Appium, Selendroid, Franke to help our clients in reducing the testing time cycle of a mobile WAP site or application.
TAS uses advanced technologies like Naïve Bayes, Scipy, Numpy, Pandas, Matplotlib to ensure that client's massive data sources are brought together in a big data delivery system.
We have extensive experience in Auto Checkout and Purchase Bots for various websites like Shopify, Ticketmaster, Supreme, Nike, Adidas, Ssense, Eventim and many more.
Not just that, we also offer automated chatbots and chat services using machine learning and data-driven intelligence.
If you have hundreds, even thousands of forms to be submitted or if you want to upload any data to a III party website using their forms, then contact us and we can build an automated system for you to accomplish it at a click of a button
If you are freelance automation developers who have to download a lot of data from a website in any format, then we are the guys to contact. We have plenty of options available for you to choose from in case of any web scraping or data downloading related jobs.
Automation Frameworks Used By Us
---
Direct Http Request bots using Python, Node or C#A super-fast method for automating any website. It takes long development time. Requires senior resources.
Selenium/Chromium/PuppeteerBrowser-based automation framework. Quick to implement but relative slow.
Appium, Monkey RunnerSelenium like automation framework for mobiles. Quick to implement but not scalable.
Android Reverse engineering super-fast method for automating mobile Apps. Very hard to implement and takes a long time. It requires very senior resources.
Ubot/UIPath and iMacrosMacro-based automation tools. Quick to implement but limited in features and ability.
Bots Developed By Us
---
Bot Services By Us On Internet
---
Contact Us
At TAS, we offer exceptional services with every single contact. We answer all your questions from basic to complex. We're always ready to help! Fill the below form to discuss your project. We will revert you promptly.