TicketMaster Bot – The Best Ticketing Bot
We provide customized solutions for ticket purchase on many ticket websites like Ticketmaster, Eventim, Fifa, Rugby and many Club websites like Manchaster, Arsenal, Chelsea etc.
TicketMaster Bot was developed for a client as a ticketing software that is designed to purchase tickets on websites like Ticketmaster.com, Ticketmaster.co.uk, Ticketmaster.il. This is a simple bot that will attempt to add the defined number of tickets to the cart and can then finish the purchase automatically.
Ticketing Bot helps to secure you a confirmed ticket before all fans for all major events like concerts, sports, arts and theater that are available on Ticketmaster Entertainment – America's leading Ticket sales and distribution company with operations in many countries around the world.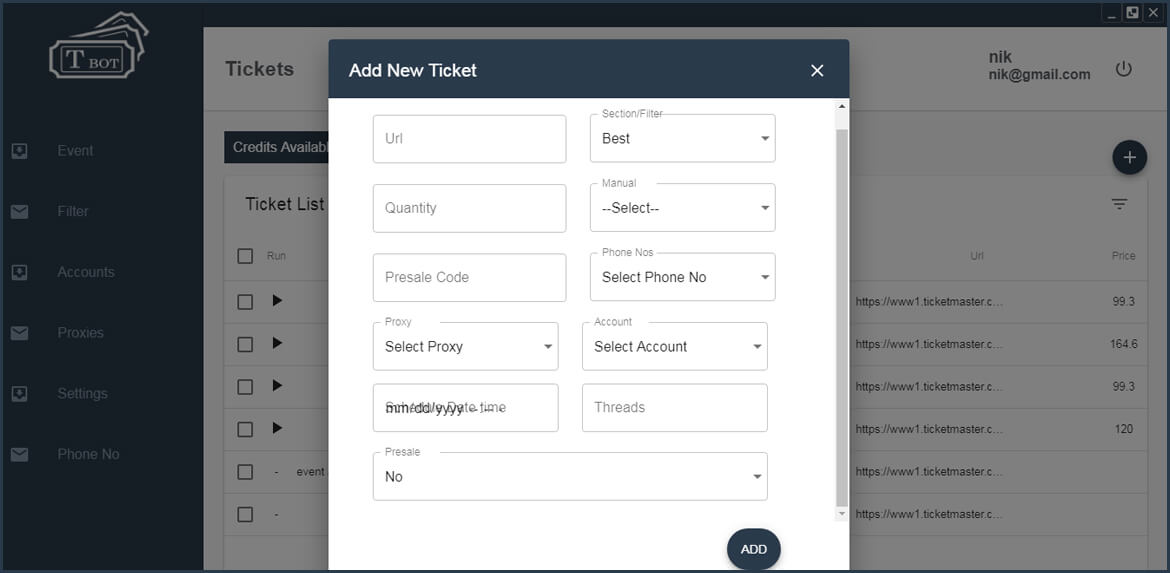 Booking Ticket For An Event on Ticketing Bot
TicketMaster Bot is an easy to use and fully customizable Ticketing Bot that automatically purchases not just random tickets but highly configurable tickets too. The Ticketing Bot quickly open and purchase a ticket for maximum ease of use.
How To Setup Ticketmaster / Ticketing Bot
Ticketing Bot is easy to use the software. You can easily handle the bot without knowing much technical know-how… 
Below is a step by step guide to setup the Ticketing Bot to book Ticket of your preference on TicketMaster:
Events:

In this section, all your events will be shown. You can create new Events under this section and delete old events. 

Filter:

Unlike other ticketing bots, our Ticketmaster bot doesn't just buy any random tickets. This bot filters your preference and book ticket only of your choice.

Accounts

: Add your TicketMaster account in this section.

Proxies:

A list of good proxies are already available in this bot. Also, you can add proxies of your choice in bulk with a few clicks.

Settings:

Set a recursion time to your ticketing bot so that it 

Phone no:

Set a phone no as TicketMaster made it compulsory during the queue process.
The Bot is now all set to purchase tickets for you automatically.
This ticketing software is designed and developed by Trident Analytical Solutions. TAS is a leading Bot Development and Automation company.